"Mexican Nightclub shooting kills 5 in Playa Del Carmen during BPM Festival"
Two Mexican drug-cartel related incidents occurred that winter of 2017, which resulted in several deaths. They occurred just 2 weeks before Kat and I boarded our red-eye flight to Cancun, Mexico.
I was concerned with our safety but at that point, it was too late to cancel our trip.
And although it may not be the safest time to travel anywhere with the ongoing state of political affairs in the world, we mustn't let fear stop us.
With this, I had only the following images on my mind:
We proceeded with caution.
Our plane landed early at 6am Friday morning. We headed to Fox Rentals to pick up the rental car that came with the deal we purchased online.
Our hotel wasn't available for us to check in until 3pm, so until then, we lived out of our Rental Toyota.
With just 4 hours of sleep, my mind wasn't the sharpest. Was it not for Kat who pointed out the 150 USD on paper by the cashier, I was almost charged an extra $50.
Skeptical, we triple checked all the fees before signing off on the contracts.
When we refuted the fee, the cashier apologized and shrugged it off as "merely an accident".
I rolled my eyes.
Right… you undercover drug lord!!!!!
By the time we finished the paperwork for our rental car, the sun started to come up.
We were still in our PJs and decided to change in the bathrooms here.
Huzzah! Transformation Thursday!!
The Rent-a-Car Guy who checked the car out for us did a double take when he saw 2 different badasses appear from the bathroom.
Kat and I looked at each other with our sunglasses on.
Let's get the hell outta here.
The original plan was to head straight to Chichen Itza. With time to spare, we took the longer, scenic route.
Despite the dangerous events that occurred just 2 weeks prior, we took the road south and knowingly stopped at Playa Del Carmen for the beautiful beaches.
My driving experience went a little something like this:
There are no lines that separate the lanes so cars will cross over into your lane at times
People here drive fast and get really mad at you for obeying the speed limit
I was getting cut off by, I kid you not, every single car for trying to be a safe driver
People use emergency lights here to signal
It was a pretty rough experience driving here.
The roads- ambiguous.
The streets- narrow.
Cars parked along the sides of the small streets blocked our view of oncoming traffic at the intersections- there were several risky paths I took, with cars almost colliding into me.
I wouldn't recommend renting a car in Yucatan unless you were planning on exploring outside of Cancun.
I am clearly an Asian driver.
After driving around small streets in circles and getting death stares from pedestrians, locals on motorcycles, taxi cabs, and cars, we finally found a parking spot next to this colorful hostel 2 blocks down from the beach.
Several speed bumps later, we made it alive!!
There were a lot of locals here. We saw cops camped outside of retail stores with guns slung across their chest. The mood within the city was tense.
While walking on the streets to find food, men were cat calling us nonstop. I cringed.
Kat and I scrounging for food in Playa Del Carmen
We decided to check out a local restaurant with hoards of people eating outside.
This was our first meal that day, so we gulped the freshly cooked tacos down.
The bill for both of us including bottled water came out to 90 pesos- What a steal!
We walked off our delicious breakfast and passed by fruit stands, boutiques, jewelry stores, taco vendors, clothes and shoe stores, lots of passerbys.
The beach was gorgeous. The warm mid-80s temperature was accompanied by a slight salty ocean breeze.
Cabanas and pool chairs lined the outside of restaurants, massage booths, and bars. Locals and tourists tanned and sipped on coronas all along the sand- surely this was paradise.
Kat & I stopped at a beauty shop on the beach to have our hair braided. 2 foreign-looking girls walking around in a Mexican neighborhood.
How could we NOT look like tourists?
It started warming up to mid 90 degrees and fresh cold coconut called to us.
The fruit vendor let Kat attempt to cut open the coconut with his blade.
It took her at least 7 stabs at the coconut (with no success) before giving it back to the seller to finish it off.
He cut it open in 2 tries.
After inquiring about our next stop, the fruit vendor looked at his watch:
"You're trying to go to Chichen Itza now?? You're not going to make it. It's already 12:30PM and it's going to take 2 hours to get there. It closes at 4:30PM but you need at least 3 hours to enjoy yourselves there.

I suggest you check out this beautiful lagoon in Tulum instead and check out Chichen Itza another time."
Our heroines faced the first of many obstacles in their journey.
What do they do?
They heeded this local's advice and got back on the road to head to Yal-ku, near Tulum.
Low and behold, we were far from disappointed upon the magnificent site of this lagoon. The water was a mixture of turquoise and sea green blue. It was pristine and beautiful.
The staff recommended renting flippers & snorkeling masks but Kat & I were cheap. We decided we didn't need them.
Although, I wished I rented some flippers because I slipped, fell, and bruised my pinky toe upon entering the water on the mossy rocks.
Dammit. Should have rented those flippers and snorkeling mask.
It was my first time swimming in a lagoon like this. There were several specimens of wildlife: tiny fish, tropical fish, and colorful large striped fish. Nearby, a red crab crawled across a rock.
Breathtaking rock formations speckled the lagoon where the fresh waters of the Yucatan met with the salty ocean of the Caribbean.
Kat & I swam as far as we possibly could before getting freaked out by a sketch jellyfish hiding along the deeper end of the lagoon.
"Be careful!!!!" some fellow divers said to us.

"There's jellyfish hiding at the bottom of these rocks and you can only see them clearly if you're wearing a snorkeling mask!!"
Dammit. Should have rented those flippers & masks.
Yal-Ku was absolutely magnificent. It was extremely spacious and quiet.
Good thing we listened to the local's advice on visiting this less-touristy destination in Mexico.
Before heading to our hotel, we went to the showers to rinse off bacteria from the water.
As we approached the showers with our body wash and shampoo, the workers stopped us and yelled.
"YOU CAN'T TAKE THOSE WITH YOU!!"
Kat: "Why??? We're leaving!! We're not going back in"
Yalku Staff: "No no no no no no!! There are chemicals in your body wash & shampoo that are going to pollute the lagoon!!"
Kat: "Oh no, we already went into the lagoon, we're just going to rinse off"
Yalku Staff: "Yes, I know! But the lagoon is very shallow and the water flows right underneath us. The toxins in your soap will sink through the dirt and into the lagoon!"
I then realized at that moment why they made us read a sign at the entrance with a list of prohibited chemicals (Which I initially questioned because why the hell would I be carrying chemicals with me??)
Me: "Oooooohhhhhhh okay. Got it. We are so sorry! We won't use them!!"

Me to Kat: Great.. we were THIS CLOSE to destroying this beautiful lagoon.
Our next journey consisted of heading to our hotel, the JW Marriott, in Cancun.
Upon checking in, we were greeted with this:
"Im sorry ladies but there seems to be a problem with your room. Please give us a few minutes before we can let you check-in. While you wait, I can offer you complimentary margaritas at the bar to make up for our mistakes."

Kat: "Free alcohol? Sure."
For dinner, we checked out Puerto Madero, a Buenos Aires restaurant 10 minutes walk away from our hotel. Incredible.
Kat and I were stuck in a food coma after devouring Pina Coladas, margaritas, seafood, and steak.
We took a nice stroll back to our hotel in the warm night that felt like summer.
The next day, we ventured towards Playa Del Carmen again to check out Xplor, a park recommended by a friend, in the Yucatan with activities ranging from underwater snorkeling to zip-lining.
Luckily, I'd brought my AUX cord with me.
We blasted music, busting our dance moves to my DJing skillz on the car ride with the windows down.
I played hip hop, Ying Yang Twinz, Pitbull, reggaeton, QUEEN. You name it.
Xplor was sick. We swam through underwater caves. We rode cars through the jungle. We rafted.
We hammocked.
It was pretty awesome.
Before heading back to our hotel, we stopped at a liquor store to buy a bottle of tequila.
While we were getting ready for the club at our hotel, I tried to open the alcohol.
But I couldn't do it.
I swore that the liquor store sold me an ineffective bottle of tequila!! For 190 Pesos ($9 USD), I thought I got scammed.
Sigh, I should've just bought the Patron.
Distraught, I dialed room service to come help!!
Me: Hi! Can you have someone come up to help me open a bottle of alcohol?

Room Service: Sure, what type of alcohol? Is it wine and you need a wine opener?

Me: No, it's a handle of tequila.
Well what do you know.. you're suppose to tap the bottom of the liquor bottle. I felt like a fool!
I'd never opened this type of bottle before.
Fast forward to the clubs- they were insane.
I didn't believe it when people told me the clubs were crazier than Vegas- boy were they right. Open bar and entrance fee for 650 pesos (~$30 USD)? Worth it.
The facade of the clubs were open for the public to see inside. They were all poppin'.
We decided to go into Coco Bongo.
I'm having a hard time dancing though due the tear in my meniscus from running down Mt. Wilson 2 weeks ago.
The pain is throbbing, telling me to slow my roll.
The high heels aren't helping my situation either.
But the music is blasting. The drinks are strong. Kat's moves are on point.
The energy is abundant, the cool breeze outside is blowing through our hair, and we just keep dancing the night away.
After a taste of the Cancun nightlife, we woke up bright, early, sleep-deprived, and ran down to the beach for this:
When our stomachs started to growl, we hit the road to grab a quick bite before heading to Chichen Itza.
Being the asian driver that I was, I missed the exit.
At the next opening I saw, I busted a quick U-turn.
Right when I made that turn, a police car appeared out of nowhere and started flashing its lights.
Shit. Policia!!
I slow to a stop and pull over to the side as the police neared my car.
"Mam, Please step outside of your vehicle"
In the sweetest tone I can muster, I roll down my window, glance up and say:
Hi officer, is there a problem?

Police Officer: "Hablas espanol?"

Me: "No, I only speak English"

Police Officer: "Okay, mam, Yes, where you turned, it is illegal. You shouldn't have turned there. You can only turn where the sign says "Retorno".

Me: "Officer, I'm SO sorry. I had no idea. I'm not familiar with the signs and Spanish. I just got here and we were just trying to go THERE to eat."
**Lamely points across the street at the restaurant, hoping he could see the regret in my face and the sincerity in my tone**
Police Officer: *Sighs* "Sorry, mam, I'm afraid I'm going to have to give you a ticket."

Me: "Officer, I'm really really sorry. I won't do it again. I'm so hungry and I'm just visiting for a few days. It was an honest mistake. I'm really sorry."

Police Officer: So, you're going to have to go to the police station and pay this ticket.
After a few minutes of going back and forth, trying to express my hunger and honest intentions to just EAT at El Fish Fritanga, the police officer let out another long sigh.
"Okay, I'm going to let you go this time, but you better not do it again"
And he walks off. PHEW.
Boy were we flirting with danger.
We finally arrive at El Fish Fritanga, a cute little taco shack tucked downstairs overlooking the sea. It's a hidden gem and the view of the ocean ain't bad either.
Waiter: Hi ladies, what would you like to order?

Me: Yes yes we're STARVING. Can we order 3 tacos each, 1 octopus, 1 squid, and 1 fish.  So 6 Total for both of us. And then we'll also order a side of ceviche too!!

Waiter: Ladies, I think the 3 tacos each is enough food for each of you. Trust me, I see this all the time from our customers. The ceviche plus the tacos will be too much for you.

Kat: Hmm.. well if you say so! Okay, we'll just get the tacos, no ceviche.
Kat & I shoved the tacos in our mouth.
The octopus was so fresh. The fish was delightfully crispy and evenly battered. The lime and the sauce complemented the squid perfectly.
The flavor of being let go by the police officer only made the food taste that much better.
But.. we were still hungry.
**Signals to the waiter**
Kat: Hi, can we actually order another side of ceviche??
The waiter looks at us, appalled at how 2 small girls can have such a large appetite for breakfast.
Surely, he underestimated our ability to eat.
Waiter: "Yes yes, of course!"
We
KILLED

 the ceviche.

To save time, we took the toll road from Cancun to Chichen Itza for 350 Pesos (~$18 USD).
We drove past several small towns to get to Chichen Itza.
The dirt roads and shoddy homes made it apparent that the standard of living here was significantly lower than that of touristy Playa Del Carmen and Cancun.
It was grimier, but it had this raw and authentic feel to it. I liked it.
2 hours later, Kat and I finally set foot on Mayan grounds.
Feast your eyes on the ancient archaeological site of the infamous Mayan Ruins.
A glorious monument, indeed. I gazed in awe at the monstrosity of this temple and wondered what the Mayan King or Queen would do at the top of the building thousands of years ago.
Perhaps it was common for the Mayan Queen to cut off the head of a disobedient peasant as a sacrifice to the Gods. Subsequently, she'd roll them off the steps, such as from this scene of Apocalypto.
Or maybe the Mayan King would just be chillin at the top of his throne like this..
Whatever the Mayans did during AD 600-1200 at these ruins, it was unbelievable to see so much history here. It was captivating.
We too, wanted to be bad and boujee.
And then it started to rain because we made it rain.
Rain drops. Drop tops.
Next thing we knew, it was time to go! We had a flight to catch at 7:30pm that night.
We also needed to pump gas AND return our rental car by 6PM.
Time: 2:45PM
Google Maps ETA says: 5:45pm
Me and Kat looked at each other. Why did it say ETA 5:45pm? It should only be 2 hours.
We kept driving.
After driving for about an hour east, the time changed.
Time: 4:45PM
There was a time difference in between the two regions! (Eastern Standard Time to Central Standard Time).
Luckily, we left early and had enough time.. or so I thought.
On the road back to catch our flight at Cancun International Airport, I took the wrong turn and paid a toll.
Minus 180 Pesos (~$9 USD).
We finally got on the right track to the airport.
Another toll booth. Minus 180 Pesos. I shed a tear.
Kat and I are down to our last 100 Pesos. We give the rest of our Pesos to the Toll Booth Guy.
Toll Booth Guy: Hi ladies, you're short another 100 Pesos.

Kat: We're out of Pesos, but we have $5 USD. This should be enough right?

Toll Booth Guy: We only accept Pesos.

Me: Do you take credit card? That is all we have. We don't have any more money *Sadface*

Toll Booth Guy: I'm sorry but we don't accept credit cards either.
Kt and I look at each other.
Shit. What do we do??
We beg Toll Booth Guy to let us pass since we have 0 Pesos left, but he denies. Dammit, our charm only worked with the Police Officer, but not this guy.
So close, yet so far.
Me and Kat sit there for a moment in shock, unsure what to do.
Toll Booth Guy points us to the right. We're not sure what he's pointing at and suddenly it clicks.
He's telling us to exchange our $5 USD with one of the cars passing by the toll booth next to us.
I look over at Kat and yell:
GO KAT GO!!!!!!!!!!!!!!!
She quickly opens the passenger door and walks over to the driver.
Kat comes back with.. 200 PESOS!!!!!!!!
Toll Booth Guy laughs and pulls the lever to let us through the toll roads.
O my god. It's a miracle.
aaaaaaaaand….
WE ARE BACK!!
The entire road to Cancun Airport is a straight shot.
But I'm anxious about the time and whether we'll make it to our flight since we're cutting it real close.
I'm constantly checking the time, seeing if speeding up a little bit will shorten the time. It doesn't help much.
I hide my anxiousness, hoping Kat doesn't see through me.
We don't need 2 freaked out girls now do we??
40 minutes in, the remaining amount of gas left in the tank starts to worry me.
Me: Hey Kat, you think we should stop  to fill up on gas soon?

Kat: Yeah, let's look up some gas stations.
*There are no gas stations within a 20 mile radius of us*
Me: hhahhahahahahahhahahah ok.
We keep driving.
I am nervous.
30 minutes later, we look up gas stations in the area. We add a stop to a gas station by the rental car.
The light's been on for a good 15 miles now. I'm really scared that we're going to get stranded on the side of the road and miss our flight.
We have some remaining Pesos leftover from Toll Booth Guy.
We give what we have left (50 pesos?) to the gas attendant.
It goes up one notch. But this is literally all the money we have left.
Time: 5:59pm
After flying down the Mexican highways, we make it to our final destination: Fox Rental Cars
My heart is racing.
We're filling out the paperwork, returning the car, and agreeing to pay fees for not successfully returning the car with a full tank.
I'm tapping my fingernails on the register and anxiously waiting for the attendant to hurry up.
I'm signing out of the contract and finally, we are done!
Kat looks over to one of the Rental Car workers:
Kat: Can we have a shuttle to the airport?

Rental Car Dude: Yeah sure, just wait 10-15 minutes. It should be here soon!

Me and Kat: Wait, we have to be at the airport at 6:30PM, which is in 10 minutes. That's when we board.

Rental Car Dude: 10 MINUTES?!

Me and Kat: Yes!! We're running so late!!

Rental Car Dude: Ladies, I'm sorry, but you've already missed your flight.

Me and Kat: What…..?

Rental Car Dude: Yeah you should've been there 2 hours ago. You missed your flight.

Me: WHAT
I'm inches away from having a panic attack. Are there different rules here in Mexico for boarding your flight?
Rental Car Dude: You said your flight is at 6:30pm?

Me and Kat: No, IT'S AT 7:30PM, but WE START BOARDING AT 6:30PM.

Rental Car Dude: OHHHHH hahahahha okay! You're fine girls! I thought you said your flight is at 6:30PM!

Me and Kat: ………………….
The shuttle finally arrives.
Time: 6:30PM.
We hurry and jump on the shuttle to head to Delta Terminal.
When the shuttle finally parks, we leap out and run.
Kat and I rush through the crowds, dashing and dodging through the human obstacle course of travelers at Cancun International Airport.
Alas, we finally arrive at Gate C23.
But nobody is there.
I look over to a worker and wave.
Me: Hi Sir! Can you help me find the Gate to board at 7:30pm? Where is everyone?

Cancun Airport Worker: This Gate? It left already.

Kat: What?!

Cancun Airport Worker: Yes, it just left. I'm sorry, but I'm afraid you missed the flight.

"You missed your flight"
My jaw drops.
Me: Are you serious……..?

Cancun Airport Worker: Yeah you're here for American Airlines right?

Me: No, we're looking for Delta. The TV screen said it was here.

Cancun Airport Worker: OHHHHHHH hahahhaha, no you're fine then! Delta gate is on the OTHER side.
I'm hyperventilating.
We bust a U-turn, hoping this time though, we don't get pulled over again by a cop.
We fly across Cancun Airport with our luggages to the other side of the airport.
My stomach growls. I'm reminiscing about the last meal of tacos and fresh ceviche I had that morning.
We run by Bubba Gump Shrimp, Rainforest Cafe, and Starbucks.
"

Shrimp

is the Fruit of the Sea"
The Bubba Gump sign seems to scream at me to come in. I'm distracted for a moment.
 Sandy, snap out of it.
Wow… so hungry. starting to see a plethora of shrimp in the distance.
MUST. KEEP. GOING.
I'm running out of breath and my spirits deflate, but I begin to the hear the sound of hands clapping.
I look up and see that my fans from all walks of life are there.
They start chanting:
RUN SANDY RUN!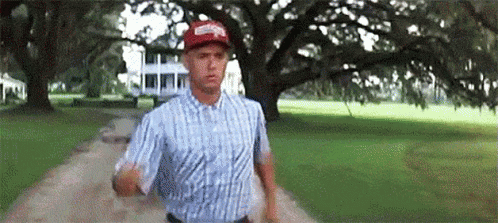 I run as fast as I can, huffing and puffing with the weight of the world on my shoulders.
My fans are cheering me on.
Adrenaline pumping. Palms sweating.
I gather the rest of the energy left inside of me from the tacos this morning to finish.
I look up and Kat beats me to the finish line.
Then, what do you know.
OUR FLIGHT IS DELAYED.
BY 1 HOUR.
Kat and I start laughing. You could only imagine the reaction on our faces.
After what seems like an eternity, the Delta flight attendants announce over the loudspeaker that it is now safe to board.
A thunderous applause erupts from the travelers.
After getting settled into our spacious seats, I finally relax a little.
I watch John Oliver make fun of Trump, listen to some music, and sip on coffee.
I end my flight with The Music of Strangers and get my Yo-Yo Ma on.
5 hours later, we finally make it back to Los Angeles safe and sound.
I look out the window to see the sparkling city lights welcome our safe return.
I look over at Kat, who's smiling probably because she beat me to the finish line. She's been in a deep slumber with a blanket draped around her.
I chuckle. Well, that was fun.
We actually pulled that off.
Adios, Mexico!
Until next time.